About the Craftsman
~Gary Greer~
I am a Canadian knifemaker and craftsman, whose passion is to design and create unique,  high-quality knives.
I am a Canadian knifemaker whose goal is to design and create knives that will give people pleasure through use and pride of ownership, providing many years of enjoyment.
Quality materials and quality work – attention to detail in design and craftsmanship – that's what makes a great knife — that's what I strive for.
Whether I am creating an art knife or a working blade, I take the time needed to craft a blade for each individual purpose.  My art knives can be described as functional works of art.  Intricately crafted for the collector with fancy file work, inlays and sculpturing but also tempered and hardened to be fully functional.   My working knives are built to be comfortable, durable, versatile and functional – they come sharp and will hold an edge.  All receive the meticulous fit and finish I demand in my work.
I take pride in the fact that every step in the creation of my knives is done by me in my shop.  Being in complete control of the whole process is paramount to the success of the knife from the critical heat treating stage to the final sharpening.  I take the same care in the design and creation of my handcrafted sheaths, custom fitting each blade to an individual sheath.
Each unique knife reflects my passion for knifemaking in its craftsmanship, strength and beauty.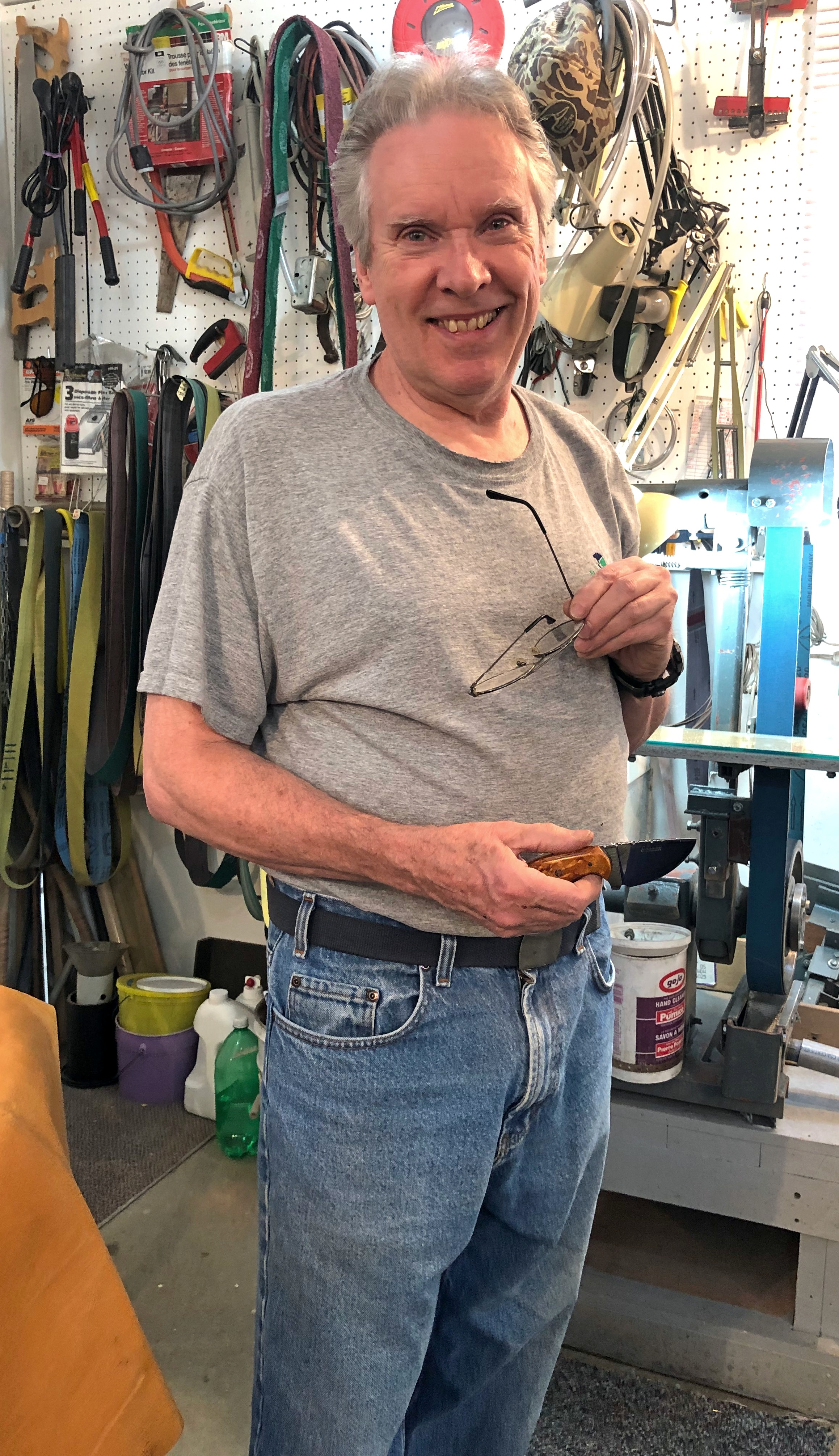 SCC Dimensions Award Winners
Award winning knives chosen by SCC Juried Dimensions Touring Art Exhibition.
Invited by Creative Saskatchewan as one of the artists to represent Saskatchewan at the S.O.F.A. fine arts show in New York and Chicago.
SCC Juried Dimensions Touring Art Exhibition
Chosen by SCC Juried Dimensions Art Exhibition to tour across Canada.
"I believe in quality work and am meticulous in the fit and finish of each knife.
I put a lot of effort into each handcrafted knife ensuring consistent high quality in all aspects of my work.
I strive for perfection in my knives."
A little more about Gary Greer
Knives have fascinated me for most of my life and I started collecting them at an early age. When I started hunting with my father, a good working knife became important to me. Their design and fabrication intrigued me and I was always searching for something better. I began experimenting with my own designs and materials creating a knife that was closer to what I wanted. This was the beginning of becoming a craftsman. That led to building my first dedicated knife making shop in 1984 and my journey began – I have never looked back. Most of my first year was spent making tools, machines and work benches so that I could actually start making knives as a craftsman. The next year was spent learning and understanding the principals of metallurgy. I experimented with several different kinds of carbon and stainless steels in order to perfect the heat treating process for each of the different alloys. Every year thereafter was a quest to increase my knowledge of being a craftsman, entertain new designs and techniques, continually seeking to perfect my craft and build the best knives. Never stop learning. As an avid bow hunter, I am able to refine my knives through field testing, always searching to make the ultimate working knife.
Although working knives are my mainstay, my artistic side has led me beyond functional and into the realm of show knives. I have always been a creative person, designing and building objects in a variety of mediums including metal, wood and stained glass. My lifelong interest in design and fabrication led me from antique furniture repair and refinishing, to stained glass and eventually to being a craftsman. The mating of new materials and innovative ideas in a functional yet attractive object was and still is a passion.
As an artist and craftsman I enjoy the whole process of coming up with an idea. The action of turning that idea into a tangible 3D object. The initial ideas and subsequent designs are the artistic part of the process. The bigger picture for me is that of a craftsman – where discovering then implementing new innovative ideas and construction techniques are the rewarding part of being that craftsman. I have been creating knives for over 35 years and still get excited when I finish a new project. I make each piece uniquely different by using a variety of elements and materials to create images that can represent period pieces or modern styles of blades.
I put a lot of effort into each handcrafted knife. I complete every step of the knifemaking process myself in my shop, from design to finished product, including the sheath, ensuring consistent high quality in all aspects of my work. I strive for perfection in my knives and find creating them becomes a source of energy for me. Each knife is like a friend and sometimes it's hard to let them go.
Juried member of the Saskatchewan Craft Council
A voting member of the Saskatchewan Knifemakers Guild and Western Canada Knife Association.
Accreditation
Participating in 2018-2019 Carfac Mentorship Program as a knifemaker mentor

Participating in SCC Dimensions competitions 1991 to present

Exhibited in "Art Now", Saskatchewan Fine Art Fair 2018

Accepted as a Juried Member of the Saskatchewan Craft Council in 2017

Represented Saskatchewan at the S.O.F.A. fine arts exhibit in Chicago and New York, USA in 2014

Award winning art knife purchased for Saskatchewan Arts Board's permanent collection displayed in Regina Legislative Buildings in 2000

Saskatchewan Craft Gallery Exhibition "Edges and Images: Contemporary Knife Making" – Gary Greer and Grant Irons in 1998