hunting, sportsman, art, etched and edc knives
QUALITY CANADIAN HANDMADE KNIVES
exceptional craftsmanship
QUALITY CANADIAN HANDMADE BLADES
Take a look at the most recent knives to come off my bench here in Saskatchewan!
I've come up with a new series of knives as an alternate finish to mirror polishing.  It's an acid stonewash finish that gives the blade surface a random design.
Price includes a handcrafted, custom-fitted leather sheath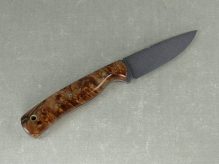 SW3 – Stonewashed Everyday Carry Knife with Spalted Maple Handle
SOLD
SW4 – Stonewashed EDC Knife with Australian Lacewood Handle
SOLD
Great selection of fixed blade knives available in each of the categories below!
These knives are my own custom designs, constructed in my shop here in Saskatchewan.
I control the whole process by completing each knife and sheath from start to finish – no outsourcing.
As a craftsman with an eye for detail, I guarantee you will be receiving a knife that is high quality, functional and durable as well as beautiful.
With the experience that only 35 years of perfecting a trade can bring,  you know these knives will perform well and give you many years of enjoyment.